Winter. It's full of possibilities isn't it? I am, personally, freezing cold half of the time. That's just me. The rest of my family can all feel just fine in our house, and I will be bundled up from head to toe in wool and fleece.
Cici will be walking around with bare arms and legs and I am sure it makes me colder to just look at her. It reminds me so much of when I was a kid and never cold. Our family joke was, "Go put a sweater on, your mom is cold!" I totally get it now.
My kids aren't cold, but I am and I just want to go around putting sweaters, socks and hats on them and they are forever taking it all off piece by piece as….they simply are NOT cold. What a thought!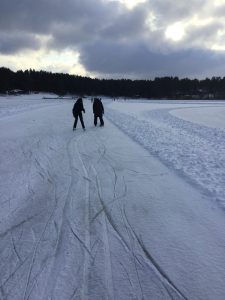 It always takes great effort for me to drag myself outside with the kids in wintertime. I always have so much fun when I do though. Then I wonder why do I resist this so much. This past week our weather has been perfectly chilly and our local little Verevi Lake is frozen.
We saw other people were starting to go out on in. The ice fishermen seem to be the first to venture out there. I figure by the time I see the little snow plow, plowing lanes on the ice that it is for sure strong enough for us to be on. Seems logical, if it can hold a small plow, it can hold us.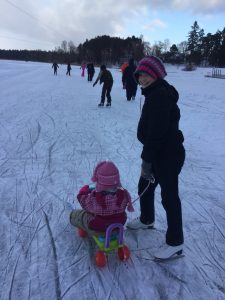 I think it'd be really fun to get an ice drill one day and just see for myself how deep the ice is. That should make for a great thing to do with the kids. I guess I could take an ax and a ruler too or whatever it is that you use to measure ice thickness.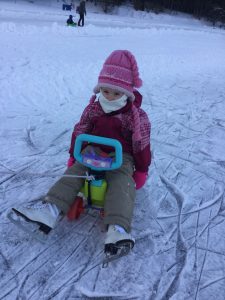 Anyhow, last Friday, I took the kids ice skating. Baxter has been asking me for forever if I will come and actually skate with them. He thought that I could fit into his old hockey skates. Yes. My kids are now big enough to pass things onto me. Having big kids is awesome.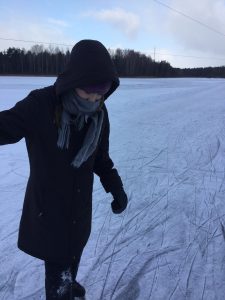 The last time we went, I helped Willow skate with her new skates. Annnnnddd, she likes the idea of skating much better than the real deal. So this time, I knew better than to go to all the effort to lace her up in her skates.
I thought that we'll just pull her on her sled around the lake. That too, was much better in theory than reality. It's actually a lot of work to pull a kid around a lake while skating. We all took turns pulling her and we had a great time.
The kids raced each other at small portions of the track. We went all around the lake. The path just curves all over like a giant snake. It's a lot of fun. As we were coming back around to the front of the lake, I found myself lining up to race Baxter to the end. (I don't know how this happened….) Such a bad idea!
I felt mildly proud that he fell at the start and I didn't. I had a serious lead on him (That Bible verse about pride leading to a fall….was not lost on me)….he caught up to me quickly though and next thing I knew I hit a really bumpy patch of lake ice and totally wiped out.
I got back up and got going again….and quickly wiped out yet again. Baxter wiped out at the same junky ice patch….but he managed to make it to the end. I however, am not as resilient as a 12 year old boy.
That hurt. After I finally hobbled to the dock to take my skates off, I told the kids from here on out, "your mother does not race on ice….your mother does not race on ice…..your mother does not race on ice" They just laughed at me. Maybe next time my good sense will kick in. Maybe my bruised up wrists will serve as a good reminder. Somehow, I doubt it!
Knowing me, the next go around, one of the kids will suggest we should race and tell me how this time it will be different and I'll do it again. My life kind of feels like that book, "If You Give a Moose a Muffin". Willow loves that book. I think we've all read it to her so many times we could tell it to her by heart.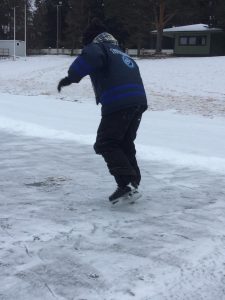 I love how our little town embraces nature and has so many opportunities for you to enjoy just getting out, even in winter. Elva is a beautiful hidden gem in Estonia and I am glad that God brought us here.