I love to crochet, but one thing that held me back from creating more things was a lack of knowing all the crochet "lingo" out there. My mom taught me the basics as a kid and I played around with all sorts of creative ideas.
In general, I just crocheted, "my own way". I would see something I thought was cute and try to figure out how to replicate that with my own set of skills. I made blankets and pot holders and all sorts of little things.
It wasn't until after the birth of my second kiddo, I finally realized that "lingo" and "patterns" could actually be my friend, and not the enemy. Shocking thought. Probably, none would be more shocked than my mother at this turn of events.
She so very patiently taught me all she knew about crocheting and probably more than I paid attention to. Why do we think we know more than we really do as kids?
If you want to learn about Crochet Basics click here.
A few months later when my son was only a couple months old and sick in the hospital near Christmas time my husband suggested that we at least do something for Christmas. We had a healthy little toddler who still needed parents and we needed each other.
So we took off just a little bit of time from the hospital and went to the bookstore and we each got a book. I don't remember what my husband got, but we got an Aesop book for our little girl and I got a book on crocheting, fittingly called Crocheting School.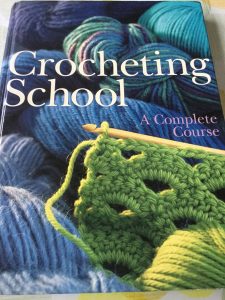 Our little guy, Baxter, did recover and we brought him home Christmas Eve day. He was still a sick little fella and it was the most pitiful holiday ever, but we were so thankful the Lord had allowed us the outcome he did.
Fast forward a bit, as that twelve years ago, that book on crochet has revolutionized my world. Or at least my crochet world. It was pretty cool to learn the names to stitches that I knew and to also learn completely new stitches. It totally opened up the world of reading patterns and what I could now really attempt to do. It has been so much fun.
I know that is a serious rabbit trail of how I got a book and I could talk for hours about my son and how he survived botulism and has done so well. You'd never know what a sick little boy he once was by looking at him now.
I can't even think of my book without thinking of that time in my life when it seemed really bleak and we knew God had a plan, but we certainly didn't know what it was going to be. We trusted him anyway and now this crochet book is just a small reminder of how He brings us through hard times. It's like the gift that keeps on giving!
Going out with my husband was just a little window of brightness in an otherwise very dark time.
Now on to how awesome this book really is! For a reluctant pattern learner this book is awesome, as it has lots of pictures and clear instructions lined up with the names and abbreviations of the stitches.
There are simply tons of pictures. It made it super simple for someone like me who would rather have a grandma teach me, than to ever crack open a book and try to learn all on my own. But this book totally worked for me.
It is one that I pull out over and over again to refresh my mind on a particular stitch or when I am trying a new pattern and it mentions some stitch I don't have a clue about or haven't used in a long time.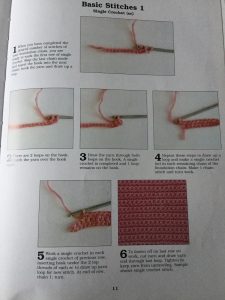 Where this book really shined a light in my crochet life was that it started with the very basics. It gave the common name for the stitch right along with its' abbreviation. Knowing the abbreviations is key to reading a pattern.
Those patterns can look mighty daunting until you get the hang of the abbreviations and then they aren't so bad after all. It also breaks the stitches down into several steps with really clear pictures. The pictures were the superstar, in my opinion, for deciphering how to "really" figure the stitches out.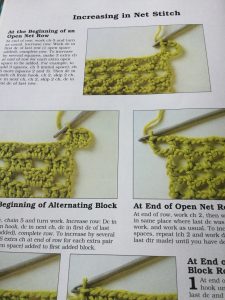 Thankfully, it came with a hard cover and has survived my house all these years. It has been my best crochet friend ever. I mean, if you could have a crochet friend, then this Crocheting School book is definitely it. This friend takes me as I am. And that is no perfectionist!
I am forever having to modify something because I didn't count stitches or some other short cut that sounded really great in my head and didn't work out so well in reality. But I'd like to think it makes me a better crocheter as it helps me find creative strategies to all sorts of things that end up teaching me great new skills.
I can salvage about anything these days and it still turn out reasonably decent.
I still love to make blankets and have made one for each of my babies. All four of them. Two of my kids, in particular, have totally loved them. A third blanket is lost to our time in Africa. And the fourth one is my son's and I suppose he is somewhat ambivalent about it. The before and after of my oldest daughter's blanket is crazy. It started out so cute and pretty.
I had learned the stitch which I have long forgotten the name, but think it was something in the shell stitch family, from a coworker on the night shift I worked with during my time as a graduate nurse…those fun days of working while studying for the NCLEX.
The lady was awesome and I was so excited to practice my new stitch that I made the hugest blanket ever or at least started on the hugest blanket ever. It was in this time that I also got engaged so it got set aside for a small while. Then we got married and got pregnant right away which led me right back to that blanket.
My husband often called it a car cover since it was so stinkin' huge. I kept going and had to buy more and more yarn. I think each time I said to him that I needed some more yarn…I got the look of "when will this ever end" or maybe it was "I'm gonna need a small saving account for my wife's yarn habit".
I don't know which, but he humored me and off we'd go to get more yarn. We were still in the newly wed state where buying yarn together still felt exciting. Or maybe that was just me? Anyhow, I ended up folding the "car cover" baby blanket over into two and stitching it together.
My daughter has loved that thing to literal shreds. It looks positively horrible in a beautiful, yet lovely sort of way and it's hard to believe what it once looked like.
I have since taught that same daughter, Jaz, to crochet and now she crochets things for me. I am wearing right now the beautiful scarf she made me for my birthday. And my second daughter, Cici, is picking it up real well too. She likes to make things for her dolls.
And my youngest, Willow, often wants to join in on the fun…so I let her pull out a crochet hook along with a ball of yarn and I help her crochet. It's pretty rough going, to be honest. She sees the rest of us pulling yarn through a hook and it seems so easy and it just isn't that easy for her yet. So she doesn't last long, but it's cute to see her try. I bet with her persistence she'll get it one day.
For more tips on Basic Crocheting click here.